Beaumes-de-Venise
Hiking Trail: The Courens Plateau
Positive elevation gain
240 meters
Negative elevation gain
239 meters
Altitude
Min. 85 meters
Max. 258 meters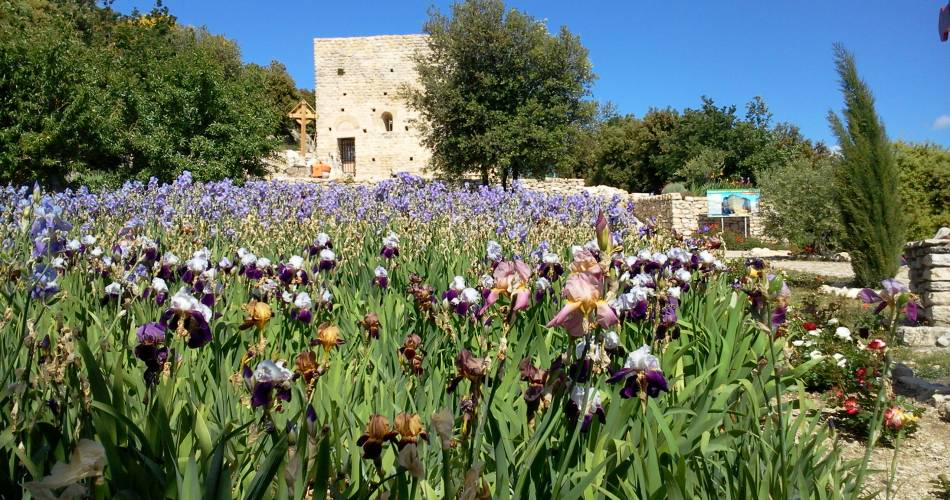 Tourist service in Beaumes-de-Venise :
On the Courens plateau, overlooking the village of Beaumes-de-Venise, there once stood a Gallo-Roman oppidum built by the Ligurian Celts, for which the plateau's sheer slopes provided natural defences.
Climb the southern slope for some breathtaking views of the plain of Comtat Venaissin and the Dentelles de Montmirail massif.
Starting point: Place du Marché, Beaumes-de-Venise. Walk around the edge of the cemetery and join the D21. Turn left towards Chapelle Saint Sébastien, then right towards Chapelle Notre Dame d'Aubune, a real gem of Romanesque architecture, with its mediaeval garden. Walk around the chapel, turning left immediately after the gate, onto the little path leading up the hill. When you reach the plateau, walk to the right until you come to the Pierre du Diable (a huge rock that towers above the chapel of Notre Dame d'Aubune). Just before the breach, take the little path on the right signposted in blue, towards Chapelle Saint Hilaire. After the chapel, walk along the edge of the vineyard to your right. At the end of the vines, you will see Le Castellas, a ruined castle currently being restored, on your right. Follow the track and, just before the road, turn right onto a small path through the undergrowth. Where the path crosses the forest track, take the path opposite (don't go through the gate). At the road, turn right then right again after the vineyard; opposite, climb to the left to some steps that will take you back to the village.
Go to the route
recommended parking
place du Marché
To note


Follow the Yellow and Red signposting, then the blue signposting from the Pierre du Diable (after Notre Dame d'Aubune.(1)


This hike is exposed south.


Avoid days with high temperatures and the Mistral.


If you want to report a problem on your hike
(marking, maintenance, danger...), let us know on Suricate:
sentinels.sportsdenature.fr
Access to the massifs
Respect the regulations preserving protected natural areas – find out about restrictions to accessing the massifs during fire risk periods, from 15 June to 15 September.
Before heading out, check the website
In brief
A circuit that varies between paths and track winding through vineyards, woods, garrigue and limestone rocks discovering the historic heritage of the Dentelles de Montmirail.
Passing along Carpentras Canal
Discovery of Notre Dame D'Aubune chapel, a Roman gem along with its garden, and Saint Hilaire chapel.
Break
Climb towards the Plateau des Courrens, and the ruins of Castellas.
The concretions of Safre and the village of Beaumes de Venise