Cabrières-d'Aigues
L13 Hike: Le Mourre Nègre, south side
Positive elevation gain
873 meters
Negative elevation gain
876 meters
Altitude
Min. 397 meters
Max. 1120 meters
Departure / Arrival
in front of the city Hall in Cabrières d'Aigues / in front of the city Hall in Cabrières d'Aigues
Parking
Parking du 8 mai 1945, below the city hall
profil altimétrique
Downloads
PDF : le Mourre Nègre depuis le Sud Luberon
Traces GPX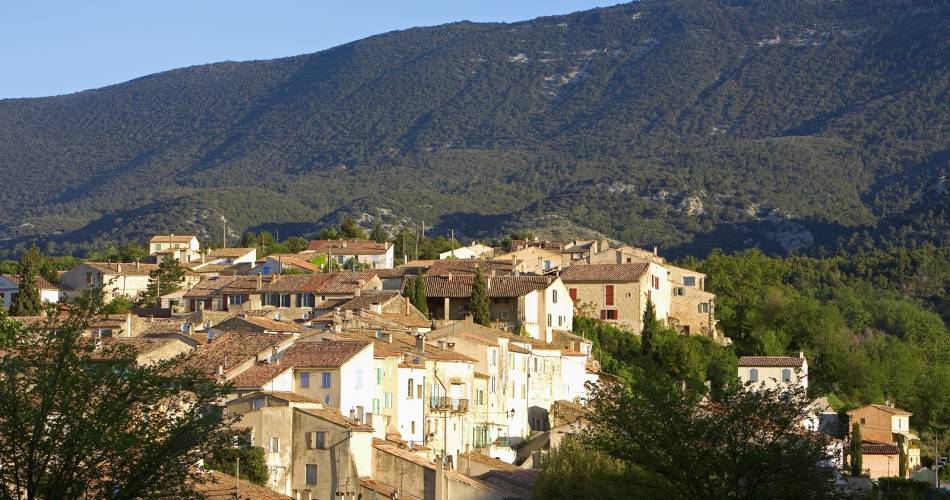 Tourist service in Cabrières-d'Aigues :
Quite a climb up to the ridges, but the reward once you get there makes it well worth the effort! From up on top, you can see what makes Luberon "Grand"! Find out about access to the massifs in the summer period due to the risk of wildfires. - Red/ White markings (GR) - Yellow markings (PR)
Go to the route
public transportation
TER train station in Pertuis
Zou bus line 107: Pays d'Aigues - Pertuis - Aix en provence
>> More Info
recommended parking
Parking du 8 mai 1945, below the city hall
road access
From Pertuis 11 km (A51), via la D9.
To note


After point 1: steep climb to the summits.


Between points 3 and 4: be careful of your ankles when on the way back down.


After point 5: the way through the ravine may be delicate after a big storm.


BEWARE OF THE PASTORAL AREA: when sheepdogs come to see you, stop, then calmly go around the grazing flock of sheep.
If you want to report a problem on your hike
(marking, maintenance, danger...), let us know on Suricate:
sentinels.sportsdenature.fr
Access to the massifs
Respect the regulations preserving protected natural areas – find out about restrictions to accessing the massifs during fire risk periods, from 15 June to 15 September.
Before heading out, check the website
In brief
Discover the southern slopes of Grand Luberon, with hikes, wooded valleys and rustic dells.
Many fossils bear witness to the presence of a warm sea more than 10 million years old.
A wonderful fountain is tucked away in the rock.
Discovery of the Luberon summits and its grassy patches on the summits, providing wide panoramas of the Alpilles, Saint Baume, Mont Ventoux.
Summit exposed to the sun and wind.
Potential to come across flocks of sheep.