Cabrières-d'Aigues
Lake La Bonde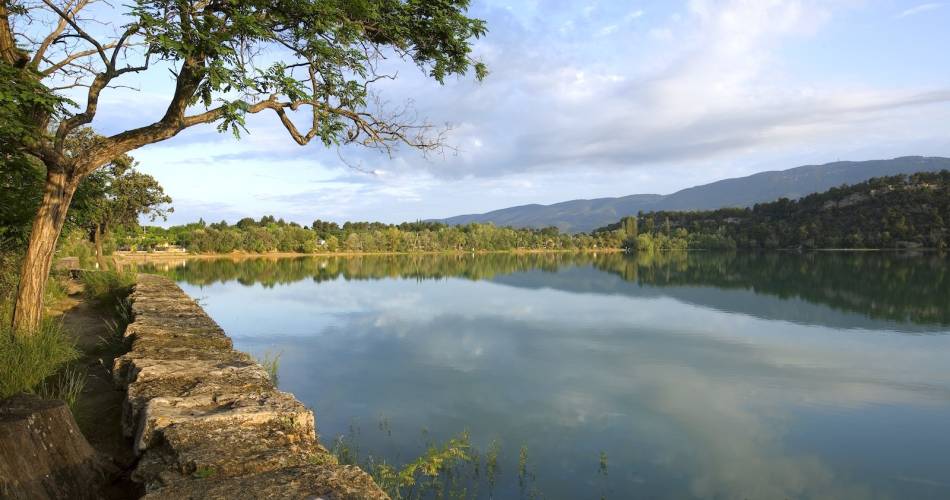 Tourist service in Cabrières-d'Aigues :
The unspoilt wooded setting of the Etang de la Bonde lake is very popular in summer for swimming. The Aleppo pines along its banks also offer wonderful nature walks and the pleasures of fishing.
The Etang de la Bonde is open for bathing all year round. Lifeguards are on duty from 1 July until 31 August on the main beach, on the west side of the lake opposite the campsite.
There is a charge for parking in the car park at this beach in the summer season, but you can park for free towards the south dike at the car park next to the restaurant (currently closed). You can also approach the lake from the east after the castle, on a road that takes you to the little village of Cabrières d'Aigues (3km).

An outdoor snack bar and a refreshment stand next to the campsite are open in high season. Four tennis courts are available all year round.

This spot is peaceful out of season, but gets very busy with picnickers and bathers as soon as the weather warms up. Canoeing, windsurfing and all other watercraft are prohibited.
Why not enjoy the lovely natural environment of the Étang de la Bonde to come fishing with family or friends? Fishing permit required.
For all information about fishing, call +33 (0)4 90 77 63 64 or see campingdelabonde@wanadoo.fr
Services
Pets welcome
Sale of fishing licences
Dates and times
All year round.
Contact
Lake La Bonde
30 Quartier Les Figuières
Etang de la Bonde - RD 27


84240

Cabrières-d'Aigues



Coordinates
Longitude : 5.50361
Latitude : 43.760126