La Coutelière Campsite ****
LAGNES
Sleep next to the water, in a cabin on stilts



It is on a small road, on the way to Fontaine-de-Vaucluse, that the La Coutelière campsite awaits you, in a shaded location on the banks of the Sorgue. From the moment of my arrival, I was under the charm of this natural location and the restorative calm of the surroundings.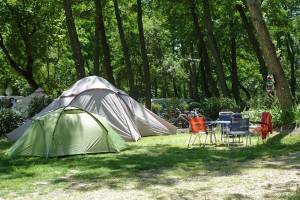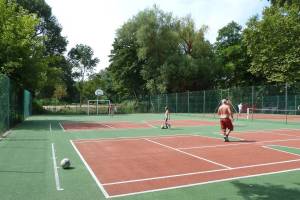 We were staying in a pretty wooden cabin on stilts, perfectly positioned along the Sorgue, with a semi-covered terrace offering a 180° view of the Sorgue, its windows looking onto this river - loved by the fly fishers, it would appear - and the surrounding nature.
Fans of wood, like me, will be satisfied, because this noble material surrounds you with its softness and natural warmth even down to the furniture.

Comfortably equipped and harmoniously furnished, this cabin is a haven of peace and after the song of the cicadas, we were all looking forward to waking the next morning to that of the birds which inhabit the surroundings, and especially to having breakfast on the terrace, lulling by the lapping of the waters of the Sorgue.

In summary, a change of scene is guaranteed in this ideal place to recharge your batteries!
Prices
Rental for a week from €476 for two people, €532 for 3/4 people
The price includes 7 nights in the cabin

The price does not include
-Transport
-Meals
-Insurance
-Any additional charges
Good Deals
Special short stay
- weekend price Friday, Saturday and Sunday
- city break price from Monday to Thursday evening
- promotional offers for long stays (from 14 consecutive nights)
To see/do
Fontaine-de-Vaucluse, the largest resurgence in Europe, and the cliff overlooking its depths which houses the remains of a medieval castle. Not forgetting the museum dedicated to the poet Petrarch, as well as the Vallis Clausa mill, the eco-museum of the valley and the museum of the Resistance. http://www.oti-delasorgue.co.uk/en-ot-delasorgue/en-principal/discover/land-heritage/our-villages/fontaine-de-vaucluse
L'Isle sur la Sorgue, nicknamed "the Venice of Provence", with its canals at the heart of the city, and its waterwheels which give it an air of romanticism. Wander around the antiques dealers or, on Sunday mornings, in the Provencal market. Unmissable events: the floating market at the start of July and the international antiques and second-hand trade fair for Easter and the 15th August. http://www.oti-delasorgue.co.uk
The Tourbillon wine estate, on the road to Apt, with its modern architecture among vines and cherry trees. You will be able to sample products of the estate, whose lands allow it to offer wines of Châteauneuf-du-Pape, Gigondas, Côtes du Rhône and Pays de Vaucluse. http://www.domaine-tourbillon.com
Canoe trips along the Sorgue, for a water adventure between Fontaine de Vaucluse and l'Isle sur la Sorgue, along this unique river - because its temperature remains constant all year round, at 15°C thanks to its underground spring! - http://www.provenceguide.co.uk/swimming/sorgues-area/canoeing-kayaking/offer-6-1.html
Adress / Contact
2765 Route de Fontaine de Vaucluse
D24
84800

Lagnes
Coordinates
Longitude: 5.107006
Latitude: 43.910378