Domaine de Fontenille ****
LAURIS
Stay in a luxury 4 star hotel at the heart of a vineyard



Le Domaine de Fontenille, located at Lauris, serves as a real introduction to a journey through time, art and culture. This 18th century mansion invites relaxation and calm in an exceptional location.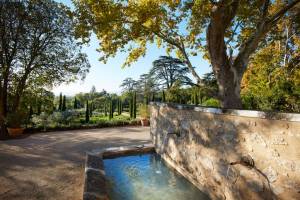 From the moment of our arrival, we were literally enthralled by the majesty of the surroundings. Everything is subtle and refined. The 17 rooms and suites which make up the estate are spacious and luxurious. The majority offer a stunning view of the park of the estate as well as the hundred-year-old cedars.
Soon after dropping off our bags we went for a walk in this magnificent garden before going to relax by the pool. The bay tree, olive trees and roses increased the feeling of tranquillity that we had experienced from the moment we entered the location.

The vineyard
We crossed the road to reach the wine cellar which we could visit.
With curved concrete vats arranged in a semicircle, and rows of stainless steel vats, we were completely submerged in the wine-making universe of the estate, with 35 hectares of vines. We tried white wines, reds and rosés, all organic products and made with the latest wine-making techniques. A real discovery!
A starred restaurant
You will be pleasantly surprised at meal times to discover two restaurants!
We took our seats at the "Champ des Lunes", which is expertly managed by the chef Jérôme Faure. At the start of 2017, he earned a Michelin star, and we were instantly won over by this modern and unexpected cuisine incorporating both land and sea, both elaborate and colourful.
The following day, we had a charming experience at the bistrot "La cuisine d'Amélie", which offers a more relaxed atmosphere. The food is more simple but just as delicious, and we appreciated the option of choosing your own menu or ordering savoury or sweet dishes to share.
An exhibition room and a spa
Icing on the cake for the perfect end to our evening: the art gallery of the estate. A room of 200 m² (the old wine cellar) which from March to December hosts various exhibitions.
The following morning, before departing, we made a trip to the spa of the estate. Our practitioner treated us in a warm and scented room which was our cocoon for an hour. Pure happiness.
Prices
Starting from 264€/room
The price includes
- The night in a Superior Room
The price does not include :
- Visitor's tax
- Breakfast
- Spa access
- Transport
- Meals
- Insurance
- Any additional charges
To see/Do
- The conservatory garden of dye plants, unique in Europe. Training, workshops, courses and exhibitions are offered to visitors.
- The village of Puget sur Durance, a real paradise of walking lovers.
- Nearby, visit the most beautiful villages in France such as Ansouis or Lourmarin.
Adress / Contact
Route de Roquefraiche
84360

Lauris
Coordinates
Longitude: 5.301878
Latitude: 43.762696