Olive and olive oil season
Olives have been growing in Vaucluse since ancient times, with the heyday of olive production in the early 20th century when nearly 200 mills used to operate.
Nowadays, several mills are still working, catering to 7,000 olive farmers (including amateurs with a couple of trees through to the owners of olive groves covering several hectares). They harvest Aglandau and Tanche olives, the two main Vaucluse varieties.
Find out all about the secrets of olives in Provence
Olive trees can yield between 15 and 50 kilos of fruit. Four to six kilos are needed to make 1 litre of oil.

Aglandau olives produce powerfully fragrant oil tasting of artichoke and almond. It has the "Huile de Haute Provence" AOC label to certify its origin. There are six towns in Vaucluse which qualify: Beaumont de Pertuis, Grambois, Peypin d'Aigues, Mirabeau, La Bastide des Jourdans and Vitrolles en Luberon.

La Tanche,produces oil as well as tasty table olives, confit black, boasting the "Olive noire de Nyons" AOC label. 18 towns in Vaucluse qualify: Brantes, Buisson, Cairanne, Crestet, Entrechaux, Faucon, Malaucène (part), Puyméras, Rasteau, Roaix, St Marcellin les Vaison, St Romain en Viennois, St Roman de Mallegarde, Séguret, Vaison, Valréas, Villedieu and Visan.

Since 2006, the "Huile d'olive de Provence" AOC has protected and certified the quality of olive production in 115 towns in Vaucluse located between Mont-Ventoux and Luberon. This AOC comprises two denominations, depending on whether fresh or matured olives are used. When the olives are pressed more than three days after harvesting, the appellation specifies "matured olives".
Oil mill tours:
A bit of background to olives
There are only two mills using animals to work the press left in Vaucluse, unused since the 1920s-30s. They serve to remind us that olive mills used to be powered by people or animals.
The Rustrel oil mill
The "Moulin (Oil mill) des Bouillons"
Working mills – to watch how the oil is made and taste it
Some mills only open their doors to producers in November for olive oil production, while others offer guided tours and tasting sessions. Here is a selection of the best addresses to find out all about olive oil:
Moulin à huile & Domaine Bastide du Laval - CADENET
Moulin à Huile du Clos des Jeannons - GORDES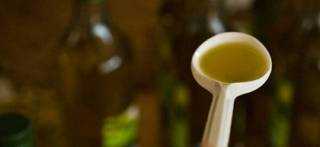 Moulin à huile du Débat -
JONQUIERES
Moulin à Huile du Vieux Château - MERINDOL
Moulin à Huile Jullien - ST SATURNIN LES APT
Moulin à Huile La Balméenne - BEAUMES DE VENISE
Moulin à Huile La Colombe - MALEMORT DU COMTAT
Moulin à huile la Rétanque - ST SATURNIN LES AVIGNON
Moulin à Huile Lis Andi -
VALREAS
Moulin à Huile Saint Augustin - OPPEDE
Moulin et Domaine Oliversion - CUCURON
Olive season
The best time of year to find out about olives is what the French call the "olivades" season from late November to late January. There's even a proverb about it: "A la saint Catherine, l'huile est dans l'olive", meaning that the olives are ready for pressing on St Catherine's Day. The fruit is harvested and taken to the mill to make the fruity oil. During this period, all sorts of events are laid on in Provence villages: